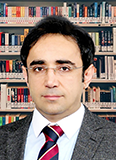 Prof. Jalil Piran
IEEE Senior Member
Sejong University, South Korea
Biography: MD. JALIL PIRAN holds a distinguished academic background and currently serves as an Associate Professor at the Department of Computer Science and Engineering in Sejong University, Seoul, South Korea. He earned his Ph.D. degree in Electronics and Information Engineering from Kyung Hee University, South Korea, in 2016, and subsequently worked as a Post-Doctoral Fellow at the Networking Laboratory of the same institution.

Prof. Piran has made significant contributions to the field of Artificial Intelligence and Data Science through his extensive research publications in esteemed international journals and conferences. His areas of expertise encompass Machine Learning, Data Science, Big Data, Wireless Communications and Networking, Internet of Things (IoT), and Cyber Security.

In addition to his research endeavors, Prof. Jalil Piran actively engages with scholarly journals as an Editor, including the "IEEE Transactions on Intelligent Transportation Systems," "Elsevier Journal of Engineering Applications of Artificial Intelligence," "Elsevier Journal of Physical Communication," and "Elsevier Journal of Computer Communication." He also serves as Secretary of the IEEE Consumer Technology Society on Machine Learning, Deep Learning, and AI. Furthermore, he assumes the role of Track Chair for Machine Learning, Deep Learning, and AI in the CE (MDA) Track for the upcoming 2024 IEEE International Conference on Consumer Electronics (ICCE).In 2022, he chaired the "5G and Beyond Communications" Session at the prestigious IEEE International Conference on Communications (ICC).

Prof. Piran is esteemed as a Senior Member of IEEE and represents South Korea as an Active Delegate to the Moving Picture Experts Group (MPEG). His outstanding research contributions have been recognized internationally, as evidenced by the prestigious "Scientist Medal of the Year 2017" awarded by IAAM in Stockholm, Sweden. Moreover, he received accolades from the Iranian Ministry of Science, Technology, and Research as an "Outstanding Emerging Researcher" in 2017. His exceptional Ph.D. dissertation was honored as the "Dissertation of the Year 2016" by the Iranian Academic Center for Education, Culture, and Research in the Engineering Group.